Kangna Ranaut in Completely New Avatar for Her Film
Kangana's is about to appear in completely new avatar for her new film called Mental Hai Kya . She is incredibly confident and extremely talented in her work.
Kangana is making ensure that no two characters she plays ever look the same. Even when she played a double role in the Tanu Weds Manusequel, her Datto was attractively different from Tanu.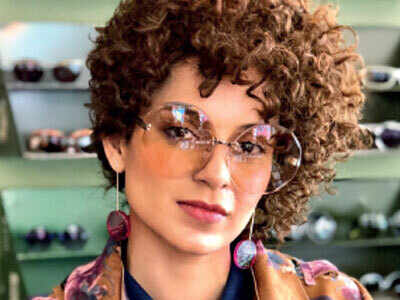 Prakash Kovelamudi's Hindi directorial debut, titled Mental Hai Kya is currently being filmed in London. For the movie she's got herself a short crop of brown-bronze curls, tinted retro glasses and a wardrobe that can best be described as contemporary chic. "It's a combo of the vintage and the new," designer Sheetal Sharma said.
Highlighting that the second half of the film is entirely shot in London where her character is on a journey of self-discovery and travelling around the Queen's City, he says her 'do it yourself' kind of a look is a combination of trench coats and oversized blazers, quirky prints and good use of embroidery.
She's been experimenting on her hair with Brendon Degee and Divya Naik. "Her mass of curls is cut short post interval and she fixes it in place with a hairband or ties it up in a knot or a bun. We have been working on accessories like glasses, trendy earrings and bags too," says Sheetal, adding, "Being a fashionista herself, Kangana has an amazing sense of style and brainstorms with the team after pack-up."
We are totally looking forward to see the movie on big screens.