10 Times Meghan Markle dressed just like Princess Diana
Our beautiful new Duchess of Sussex Meghan has appeared just like Diana. Here are 10 times she wore almost the same dresses as Princess Diana.
1. Flowy Blue Dresses
Meghan's loose-fitting gown from Oscar de la Renta's 2019 resort collection is a reminiscentof Diania's Catherine Walker-designed tunic.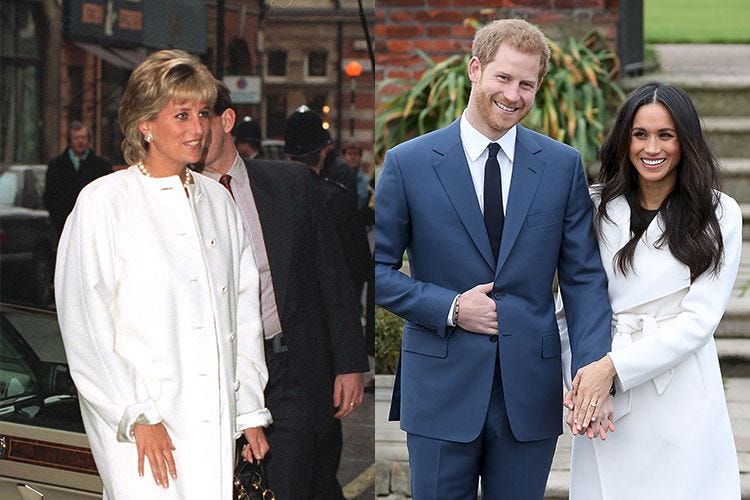 Diana wore this white Coat in 1996 at London. The dress was from  Versace, while Meghan Markle repped a Canadian brand for her engagement announcement.
4. Classic Jeans and Button Downs
Similar and appealing they both nailed the casual look.
5. Pink Off-the-Shoulder Ensembles
Meghan Markle didn't break royal protocol by baring her shoulders in Carolina Herrera at Trooping the Colour this year. Princess Diana have worn strapless outfits before, like this Catherine Walker ballgown seen at the Berlin Opera House in 1987.
6. Chic Black Suits
Totally Chic! Loving this look.
7. Plunging Red V-Neck Gowns
Loving Meghan's gown color.
8. Pinstripe Dresses
9. Green Printed Shifts
10. Aquamarine Rings
This time Meghan paid a very purposeful sartorial tribute to her mother-in-law. The newlywed wore Diana's aquamarine cocktail ring to her wedding reception on May 19th as her something blue.
Disclaimer:
We do not allow users to post content which is copyright and We take strict actions against the users who post infringement content on our website.Although we do not host any content, users post embed videos from 
youtube
, 
facebook
, 
Dailymotion
 and 
Vimeo
 and are moderated before posting but we still take strict action against the copyright videos posted.If you are an official representative of any company whose videos are posted illegally on our website or you think some video infringe the copyright then you can simply send an email to 
info@thesuccess.pk